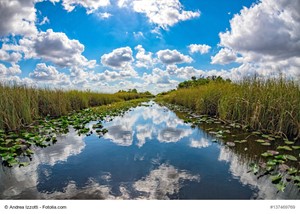 Florida is home to many wonderful beaches, awe-inspiring amusement parks and other terrific attractions. Of course, let's not forget about the Sunshine State's top-rated national parks, either.
The Sunshine State boasts many captivating national parks. Plus, some of these national parks are located near luxury homes. And if you purchase one of these luxury residences, you won't have to travel too far to enjoy a first-rate Florida national park.
Now, let's take a look at three of the most popular Florida national parks.
1. Biscayne National Park
Biscayne National Park offers stunning views of Miami, as well as charming emerald islands, coral reefs and aquamarine waters. In fact, approximately 95 percent of the national park consists of water, which means park visitors will need to get into the water to tour this one-of-a-kind Sunshine State destination.
At Biscayne National Park, you can celebrate more than 10,000 years of human history. The park features boat tours that allow you to experience the sights and sounds of this Florida landmark. It also offers paddle craft that are available for rent, enabling you to navigate the Biscayne National Park waters on your own.
2. Everglades National Park
The Everglades, aka the largest subtropical wilderness in the United States, are a sight to behold. Meanwhile, if you plan a trip to Everglades National Park, you can see an amazing landscape that features American crocodiles, manatees and other rare and endangered species.
Everglades National Park is a must-visit for Sunshine State residents and visitors alike. It offers a 65-foot observation tower that provides a bird's-eye view of the Everglades. In addition, Everglades National Park is home to the 99-mile Wilderness Waterway, Nike Hercules missile base and other attractions that you won't find anywhere else.
3. Dry Tortugas National Park
Dry Tortugas National Park is located roughly 70 miles west of Key West. It consists primarily of open water and seven small islands, along with the magnificent Fort Jefferson.
For those who intend to visit Dry Tortugas National Park, you'll need to travel to the destination via boat or seaplane. Once you arrive, you should find that the journey was worth the wait.
At Dry Tortugas National Park, you can see sterling blue waters, picturesque coral reef and much more. As a result, you're unlikely to forget your trip to Dry Tortugas National Park any time soon.
Clearly, there are many excellent national parks located across the Sunshine State. If you acquire a luxury residence near any of the aforementioned Florida national parks, you can quickly and effortlessly visit a superb national park at your convenience.
If you need help searching for a Florida luxury residence, don't hesitate to contact a real estate agent. By hiring a real estate agent, you can streamline your search for a Florida luxury house. Perhaps best of all, a real estate agent will help you find a deluxe Florida luxury home near the national park of your choice.